GREEN BAY, Wis. — The Green Bay Packers will host Missouri State defensive lineman Eric Johnson on a pre-draft visit, according to a source.
Aaron Wilson of Pro Football Network was the first to report the visit.
Taking advantage of the COVID bonus year, Johnson has played a school-record 55 straight games as a five-year starter for the Bears and has been a Missouri Valley second-team selection each of the past two years.
As a sixth-year senior, he recorded 43 tackles, including 1.5 sacks and 6.5 for losses, and added three blocked kicks. In his last collegiate game, an FCS playoff matchup against Tennessee-Martin, he dominated with 11 tackles, one forced fumble and one blocked kick.
He finished his career with 6.5 sacks and 19.5 tackles for losses.
Johnson was picked for the NFLPA Collegiate Bowl, where he had a sack. Then his agent, Harold Lewis, had him added to the Senior Bowl roster.
"Even going through this, it still felt like a dream," Johnson told Pro Football Network. "I was excited about the whole NFLPA, and I was on a plane home and thinking about practicing again and getting ready for the pro day. My agent called me as we were leaving the gate and said, "Hey, we got you into the Senior Bowl, you gotta get off the plane!" and I was like, 'I can't stop this plane!'
"It was so cool. Just the fact that people kept telling me that I had worked so hard and done so well, and your performance gave you that opportunity. That part is really stuck. Because of what I did, the way I acted and what I filmed, it opened this door for me It was this image that remained, that I deserved this , that I deserved to be there.
On pro day, he was 6-foot-4 3/8 and 299 pounds with 34 3/4-inch arms. He ran his 40 in 4.86 seconds and completed 20 reps on the 225-pound bench press. The only defensive tackles at the combine that ran faster were Georgia's Devonte Wyatt (4.77) and Jordan Davis (4.78).
His work at the All-Star Games, and then his practice, led him to consider going in the middle of day three.
Johnson's father, Eric Johnson Sr., was a defensive lineman at Illinois State before embarking on a pro career that included stints in the CFL and XFL.
"I talked to my dad and he gave me advice," Johnson told the Springfield News-Leader recently. "Now that we know we can officially make it happen and we have the capability, that can't be the only goal.
"We have to raise the bar. It was all 'let's get into training camp' or 'let's get drafted.' Now it's "We're trying to be on a team, we want to be on the roster and we want to make it on a team." We want it to last. »
All-Packers Mock Draft 4.0
First round: WR Treylon Burks, Arkansas
It was easy. Of the five Big Five receivers — Ohio State's Garrett Wilson, USC's Drake London, Alabama's Jameson Williams, Ohio State's Chris Olave and Arkansas' Treylon Burks — only Burks was available. So Burks is the pick. Burks may not have great speed, but his physique will match what coach Matt LaFleur likes to do.
First round: OLB Boye Mafe
With absolutely no depth behind the starters, the Packers are one injury away from a major problem. Is Mafe a dominant player? No. Is Mafe a finished product? Not even close. In 2019, the same things were said about Rashan Gary. It worked OK. This one too. Mafe had seven sacks as a senior and physically fits the bill at 6-foot-4 and 261 pounds with a ridiculous 4.53 speed in the 40. With offensive tackles off the board, this pick took 0.2 second.
Second Round: WR Christian Watson, North Dakota State
LaFleur wants speed. At 6-foot-4 and clocking 4.37 in the 40, speed is what Marquez Valdes-Scantling brought to the party. Hi, Christian Watson, who at 6ft 4in has a speed of 4.36, better overall athleticism and a better skill set. He topped the FCS ranks not only as a receiver but also as a kickoff returner. Linebacker Quay Walker and offensive tackle Abraham Lucas were considerations.
Second Round: OT Abraham Lucas, Washington State
The last two seasons have been marred by David Bakhtiari's torn ACL. As things stand with Elgton Jenkins coming out of a torn ACL, the Packers will line up in Week 1 with Bakhtiari at left tackle, Yosh Nijman at right tackle and… who knows as No. 3. is a huge need. Lucas may have a bit of range there, but he has the athleticism the Packers covet on the offensive line and a wealth of pass protection experience.
Third round: TE Jelani Woods, Virginia
PFF gave that pick to F. Robert Tonyan, who is primarily an overgrown receiver, and Marcedes Lewis, who is primarily a glorified offensive lineman, are back but will be free agents next season. The Packers have a history of third-round tight ends with Richard Rodgers, Jace Sternberger and Josiah Deguara. A transfer from Oklahoma State, he caught 44 passes for 598 yards and eight touchdowns as a senior. At 6-foot-7 and 253 pounds, Woods is an elite physical package for the job.
Fourth Round: DT Neil Farrell, LSU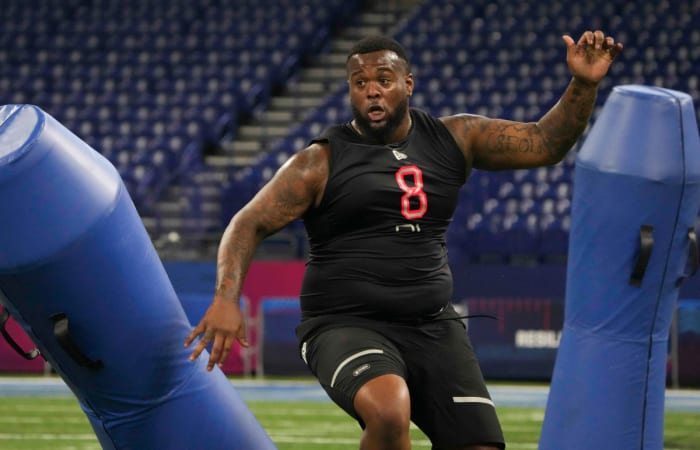 The Packers have Kenny Clark, Dean Lowry, TJ Slaton and veteran Jarran Reed as defensive linemen. They need one more to give them a five-man rotation for the season. Farrell is a massive 6-foot-4, 330-pound man. SEC blockers couldn't handle his combination of size and startling speed.
Fourth round: S Tycen Anderson, Toledo
PFF hated that choice, giving it a D-minus. Anderson is an elite package at 6-foot-2 and with a speed of 4.36 in the 40. He has played deep, in the box and has a cover story. Zero interceptions in the last three seasons, it's troubling. At least he will be a weapon in the special teams. He has a solid history in that capacity, with more than 800 shots on Rockets hitting units. The Packers have a potential need for long-term security, with Adrian Amos and Darnell Savage entering their final seasons under contract.
Fifth round: LB Aaron Hansford, Texas A&M
PFF also hated that pick, dishing out another F. Hansford caught three passes as a redshirt freshman receiver in 2017 before switching to defense in 2019. In 2021, he led the team with 89 tackles and finished third with 8.5 tackles for loss. At 6-foot-2 and 239 pounds, he has good speed (4.64 in the 40) and strength (24 reps off the bench). If his vision improves with experience, he could become a quality starter.
Seventh round
OL Nick Zakelj, Fordham
At 6-foot-6 and 316 pounds, Zakelj started 45 games in five seasons at the school made famous by Vince Lombardi. He was selected four times in all conferences. With 32 1/2 inch arms, he'll likely head for guard. The Packers are always looking for versatile replacements on the line and he was the best available after UConn's hyperathletic Ryan Van Demark took a spot earlier.
RB Tyler Goodson, Iowa
With Aaron Jones a potential cut next offseason and with Kylin Hill coming off a torn ACL, I really wanted to throw a late-round pick on a running back. In his senior season, Goodson rushed for 1,151 yards and caught 31 passes. At around 200 pounds, he doesn't pack a lot of punch, but he has a 4.42 speed in the 40 and great footwork. It's pretty easy to see him line up in the slot as Tyler Ervin's old role.
CB Jaylen Watson, WA
The Packers have a great starting line at cornerback but little depth. Watson was a first-time starter as a senior, when he completed two passes and broke up five. He has height (6-foot-2), speed (4.48), athleticism (38 vertical), and physicality. It's just raw. As long as Jaire Alexander, Rasul Douglas and Eric Stokes start all 17+ games together, he can watch and learn as a rookie.